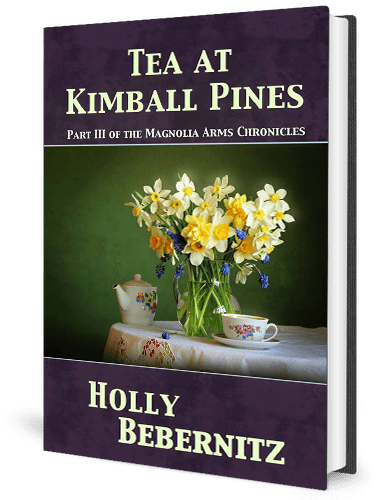 The saga that began with Treverode the Defender continues in Tea at Kimball Pines, the third installment in the Magnolia Arms Chronicles series by independent author and publisher Holly Bebernitz. Readers will reunite with old friends, join the people of Dennison as they prepare for Founder's Day, and meet the new tenants–some welcome, others in question–all arriving with baggage other than what can be carted upstairs.
Part III of The Magnolia Arms Chronicles features a new cast of residents in the house on Belmont Drive in Dennisonville, North Carolina. Nestor and Agnes Carlyle, married for three months, are managers. On staff are "Ham" Hampton as caretaker and Pinetta Fraleigh as reluctant cook and housekeeper.
Even after a year-long stay, Pinetta still refuses to admit she "lives" there. The worn furniture, hodgepodge of tenants, and nosy neighbors are a constant strain on her sensibilities.
Pinetta Fraleigh wants to go home—it is that simple.
Until the day Barton Carlyle arrives. Now she would not dream of leaving.
Additional Titles from Holly Bebernitz